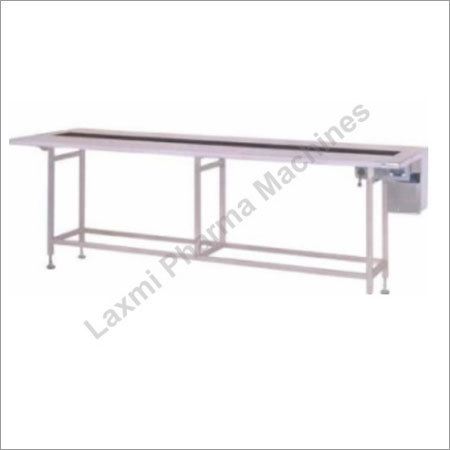 Packing Conveyor Belt
Product Description
Packing Conveyor Belt is used to handle light to heavy duty material from one point to another. It is widely used in pharmaceutical and other industries for assembly line packing. The packing conveyor is mainly used to move the object for the threading, filling and sealing, capping etc. when it comes to its structure, this conveyor has table like structure that has steel table top. The tabletop is fixed to the table with S.S. square pipe. Its adjustable angle at initial of the conveyor make it ideal for strip and blister packing.
Salient Features of Packing Conveyor Belt

A. C. Frequency Drive for Speed Control
Available according to required Speed, Length, Height & Width.
Conveyor Height adjustable (To match the line height)
GMP Model
Imported Motor and Gear Box.
S.S. Slat Chain / PVC Endless conveyor as per requirement.
S.S.-304 Top portion
Structure made out from S.S. Square pipe.

Optional

Acrylic cabinet covering full machine
Bar code reader
Batch Code Printing Device
Camera system
Improper coding – Rejection system
Improper labeling – Rejection system
Inkjet printer
Pharma code reader
Without label – Rejection system

Technical Specifications
MODELS

LPCB - 8F / 10F / 12F

Suitable for

Vials, Bottles, Boxes etc.

Length

8 feet / 10 feet / 12 feet

Working

8", 9", 12"

Belt

S.S. Chain, Rubber type

Electric Load

Depends upon Length
Minimum 0.25 HP to 1.0 HP, Single Phase, 230 V , 50 Hz A.C.