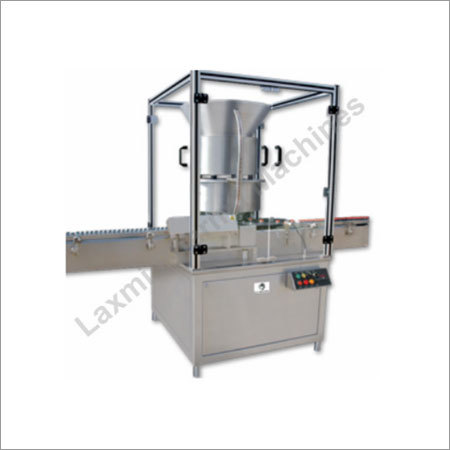 Automatic Aluminum Vial Cap Sealing Machine
Product Description
Our Automatic Cap Sealing Machine is widely used for sealing the cap of plastic containers and bottles, this machine does not need any adjustment for sealing various types of plastic containers. It find its application in beverage, pesticides, mineral water and medicine packaging industries. Our Automatic Aluminum Vial Cap Sealing Machine is best viewed for features, like better execution, high productivity, smooth completion, and some more. Easy to operate, require less maintenance and long life are some features of our machine.
Salient Features

All parts come in contact with the container of the aluminum cap that are made out of Stainless Steel for long time.
cGMP Model
It has Inbuilt Pulse Counter.
Infeed/Exit Star wheel is equipped with Safety Clutch for automatic stoppage of machine in case of jamming and/or overloading.
No cap in chute – Machine Stop Mechanism
Quick & very easy change over and setting from one size of container to another container.
Single Motor Synchronizes Conveyor, Star wheel and Platform turret.
Spring Loaded Free Spinning Sealing Rollers eliminate any damage to aluminum caps & allows greater flexibility of variation in the container neck dia.
SS Machine Frame structure.
Unique Sealing Rollers Impart uniform, Scratch free, fit tight and reliable skirting and sealing.
Variable Frequency Drive for Speed Control.
Optional

Acrylic Cabinet with S.S. Frame Structure Covering Full Machine
Chucks for Flip – Off Seal
PLC Based Operation (PLC & HMI).
MODELS

LCS-60

LCS-120

LCS-180

LCS-240

LCS-350

No. of Heads

Single Head

Four Heads

Six Heads

Eight Heads

Twelve Heads

Output / Min.

30 to 60 VPM

60 to 120 VPM

100 to 100 VPM

150 to240 VPM

200 to 350 VPM

Conveyor Height

800 mm ± 50 mm or as per your requirement

Power Supply

1 to 2 HP, 3 Phase, 50 Hz

Dimensions (lx w x h)

3000 x 1400 x 2200

3000 x 1400 x 220

3650 x 1700 x 2400

3650 x 1700 x 2400

Conveyor Height

800 mm ± 50 mm (Adjustable)

Input Specifications

Can accommodate different sizes of vials and caps with the help of change parts.
Vial Dia.: 16 mm to 54 mm
Vial Height: upto 100 mm
Cap Size: 13 mm, 20 mm, & 32 mm
Container Height: 210 mm Maximum
Special machines are available for other sizes of containers on request